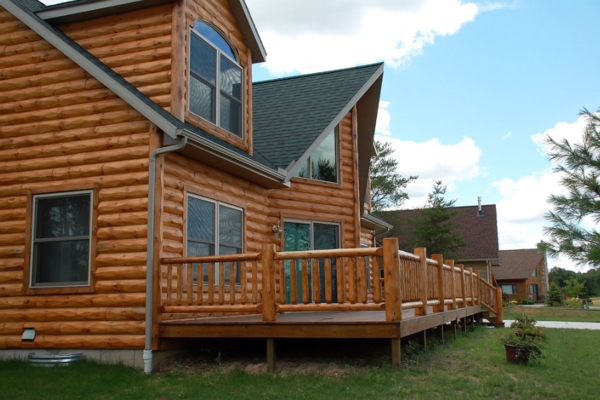 When you need a Kootenay contractor you can trust, call 1st Action Contracting in Creston, B.C.: They serve the entire East Kootenay region, and can meet all your log building resurfacing, fencing and outbuilding construction needs.
Services offered
Sandblasting and resurfacing
There are several good reasons to sandblast or resurface - it's one of the most important processes in a log home restoration. If you take a look at your structure and find that the stain has faded or peeled, the logs are turning greyish/black or they lack a protective stain/sealant...you might decide it's time to spruce things up. Sandblasting removes the tired old finish, allowing the logs to "breathe" (if they aren't sandblasted, layers of finish can build up, creating moisture retention and rot). In the process, you can also reveal hidden problems (such as damaged logs that need to be replaced) and fix them before they become costly.
Chinking and caulking
Chinking and caulking is required in log homes, for both practical and cosmetic reasons. Doing this helps to seal gaps that may form between logs as they shift or contract in size. If left untreated, the gaps can allow cold air and moisture to get in - costing you big bucks. Take the proactive approach: chinking and caulking can significantly reduce energy expenditures, and protect your dream home for years to come.
Refinishing and re-staining
These services can bring your log home back to life in a couple of different ways. Refinishing involves sandblasting off the existing stain, bringing the logs down to bare wood. Afterwards, they apply a new coat of stain. If you choose to re-stain instead, the logs will simply be cleaned before applying another coat. Ask the friendly folks at 1st Action Contracting which option is better for your home and budget.
Construction of barns, sheds and outbuildings
If you need a barn, shed or outbuilding constructed, you can count on 1st Action Contracting for that, too! Their team members are experts when it comes to building all types of structures, and they can do it promptly and efficiently for a fair price.
Fencing construction
Need fencing materials, or to have a fence built for you? The 1st Action staff can construct a quality fencing system that keeps your yard or farm secure, or they can sell you the materials to do it yourself.
Contact 1st Action Contracting today
For an estimate on your next project, call the 1st Action Contracting team at 250-254-1900 or email [email protected] They have the expertise, and friendly customer service to put your mind at ease and do the job well.
Methods of payment accepted
Cash, cheque, e-transfer
Owner
Kyle Blackmore
First year in business
2018
Hours of operation
Monday - Friday As required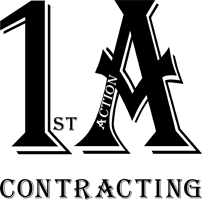 Serving the East Kootenay