If you need a vehicle repaired—particularly if you require radiator replacement, maintenance or other servicing—contact Columbia Auto & Radiator Service (CARS) in Castlegar.
Our prices are highly competitive and we proudly employ General Motors (GM) and Ford OEM (original equipment manufacturer)–certified technicians. From tires, brakes and batteries to full in-depth diagnostics—trust our team to do the job effectively and quickly.
We are also proud to be your premier powerstroke diesel and Ford product specialty shop.
Call us for auto repairs and radiator services in Castlegar, B.C.
Get a free quote on auto repairs and radiator maintenance. Call us at 250-365-5422.
Five-star customer reviews for Columbia Auto & Radiator Service in Castlegar, B.C.
"Nice guys, good work and fair price." ~ Gustavo, Google reviewer
"Very impressed with the service, their people skills, detailed explanation of service and parts needed. A quote before starting and a mechanic who comes out to discuss your job. Kudos for you guys. You've got your excellent reputation well earned. I'll definitely return next time I need my vehicles worked on." ~ Jim, Google reviewer
"Was thoroughly impressed with my extremely prompt service as I was stranded in town after I blew a belt/rad, and super lucked out as the owner of the shop fixed it himself first thing Monday morning, had my rad in stock! Spent longer waiting for Lordco to deliver my new belts than him fixing it! Thank you guys from me and the family!" ~ Keegan, Google reviewer
Count on us for auto repair in Castlegar

Keeping your car or truck in good working condition is critical to its longevity and performance down the road. We can diagnose and fix a problem promptly before it becomes too extensive—and expensive. Better yet, we can perform quality maintenance on your vehicle, so that it never needs intensive repair work at all.
At CARS, we specialize in a full range of automotive repairs, including:
Automatic transmissions
Manual transmissions
Powerstroke diesels
Brakes
Suspensions
Gears and drive lines
Steering
Tires
Axles
Oil changes
Wheel alignments
Preventative maintenance
Government inspections
Tune-ups
Electrical computer diagnostics
What should I look for in a good auto repair shop?
Don't trust your vehicle with just any repair shop. Choose a mechanic that you can trust with your investment. Here are a few good indicators that you have chosen wisely:
A good mechanic will let you know what is involved in the job, and keep you informed every step of the way

All staff working on your vehicle should be fully trained and certified to do so

You will be told upfront what your costs will be or given the most accurate estimate possible so there are no bad financial surprises

A trustworthy auto repair shop will have a fantastic reputation for good work and customer service. (Not to toot our own horn, but we have some of the most discerning customers around, and their reviews of our service are outstanding.)

They will use only high-quality parts on your vehicle to ensure that the repair is a lasting one
How can I tell if my vehicle needs new tires?

Don't wait until you're standing at the roadside with a flat tire. There are usually signs that you need a tire replacement well before anything major happens.
If tires are more than 10 years old—regardless of how great they look—replace them. Rubber does not last forever and can degrade over time.

Look for signs of uneven wear. Your vehicle may need a wheel alignment or other repairs before replacing tires to prevent them from wearing down faster (and wasting your money).

Do a visual inspection, looking for bulging, wear and tear, cracks or discolouration. If you see any of these signs, it's time to invest in new tires.
Do you have other tips for buying new tires in Castlegar?
If possible, try to replace all four tires at the same time. This is often better for your vehicle's suspension (you can also ask to have suspension problems evaluated at the same time you're doing a full replacement, preventing future issues.)

While you're having your tires replaced, ask our staff to inspect your spare tire as well. Assuming you can use a full-sized spare, you might even have the best of your four recently replaced tires saved for that purpose.

Always get a wheel alignment at the same time you have your tires changed.

Be vigilant about tire maintenance. Keep them properly inflated to get better gas mileage and endurance, and remember to rotate them regularly.
What is the purpose of a radiator and how do I keep it maintained?

As providers of radiator repairs and maintenance in Castlegar, we are experts on the subject.
The purpose of a vehicle's radiator is to use coolant to keep an engine running at the ideal temperature. Without it, the engine would overheat.
You can help keep your radiator in good shape by watching your coolant levels and not letting it run out. Another helpful trick is to get your mechanic to flush your radiator once a year. This valuable step can save you money in the long run, as it reduces the chance of future clogging and rust.
How do I know if my radiator is damaged or needs replacing?
Look for steam coming from the hood (indicating an overheating engine) or a puddle of coolant underneath your vehicle. Another clue is to look at your temperature gauge. If it points to hot, you might have a radiator issue.
Radiators tend to last between eight and 10 years, but seeing the above indicators would necessitate a call to Columbia Auto & Radiator Service. Our staff is specially trained when it comes to radiator repair and maintenance, so you will be in the best hands.
It's important to fix a radiator as early as possible to prevent further damage to the rest of your automobile.
What are the opening hours for Columbia Auto & Radiator Service in Castlegar?
Monday to Friday: 8 a.m. - 5 p.m.
Closed Saturday and Sunday
Who is the owner of Columbia Auto & Radiator Service?
Tim Strelieff
What payment options does Columbia Auto & Radiator Service accept?
Interac, Visa, MasterCard, Cheque, Cash
Contact info
Address: 1050 Columbia Ave, Castlegar, BC V1N 1H2
Phone: 250-365-5422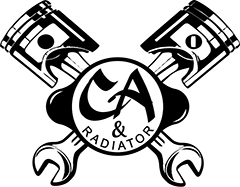 1050 Columbia Av Castlegar V1N1H2