The Dock 'n' Duck Pub, Grill & Lodge has a prime location in Balfour at the Kootenay Lake ferry terminal (in close proximity to Nelson, B.C.). It's one of the most popular restaurants in the Central Kootenay region, with over 10,000 Facebook likes from happy diners. They fall in love with the spectacular views, luxury mountain lodge decor, oversized outdoor patio and exceptional location for ferry, highway and boat traffic.
Our food is hearty and healthy. Try our famous gourmet flame-broiled beef burgers and you'll be coming back for comfort food every time you visit Balfour.
We also have apartment-style suites to rent, so you can spend the night (or a few nights) relaxing by the lakeside.
Call to ask about our menu, hours or to make a reservation at our Balfour restaurant
Give us a call at 250-229-4244 to order take-out food, or to make reservations and other inquiries.
Five-star customer reviews for the Dock 'n' Duck Pub, Grill and Lodge:
"We stopped in for some dinner while on a quick getaway to the Nelson area. Had an absolutely stunning view of the lake from the patio! We ordered two of the seafood dishes, and the menu warned us the dishes may take more time than usual. However, food and service throughout the night was prompt, courteous, and wonderful! Even the other customers were extremely welcoming and friendly. :) We so enjoyed our time, and will definitely visit again soon!" ~ Elisha, Google reviewer
"Second time eating here. A great place to grab a bite while waiting for the ferry, if I lived nearby I would frequently dine here. The food is great, the chowder is amazing and the service is perfect." ~ MJ, Google reviewer
"Large selection of food, quick and courteous service. Great views of the lake and mountains." ~ Steve, Google reviewer

Where can I find a comfort food restaurant at Kootenay Lake?
At the Dock 'n' Duck, we take pride in our menu creations. We've been serving wholesome, hearty food for decades, making us a family favourite in the West Kootenay region.
We are a gold-standard Certified Angus Beef provider. That means we only cook with the best lean beef available. Our gourmet burgers are a shining example of this.
Our pizza is stellar! We pile tons of fresh toppings on a whole wheat crust with pizza sauce and real Canadian cheeses (not edible oil products).
Have you heard about our wings and ribs? We have oven-roasted, crunchy chicken wings, along with baby back ribs that will make your mouth water. All hormone-, preservative- and steroid-free and all made in-house.
Be sure to try our organic beer-battered fish and chips and our wild salmon from Arctic or B.C. waters, sourced using sustainable fishing practices.
In addition, you can choose from an array of salads, soups, stir fry choices, sandwiches, wraps, desserts and pasta dishes.
All of our sauces, dressings, soups and stocks are made in-house and free from preservatives, artificial colours and flavours.
We also offer wheat-free choices for those with gluten sensitivity/intolerance. For example, we carry lettuce buns, corn chips and rice.
What beverages do you serve at the Dock 'n' Duck pub in Balfour?
Our pub at the Kootenay Lake ferry landing serves up cold drinks to those waiting for the ferry, and it's been a gathering place for generations.
We have a selection of local beer on tap, as well as bottled beer, cider and spirits. Ask our friendly bar staff to whip you up a cocktail—you'll be impressed with their skills.
Relax with a cold one on our outdoor patio, and take in all the beauty of Kootenay Lake.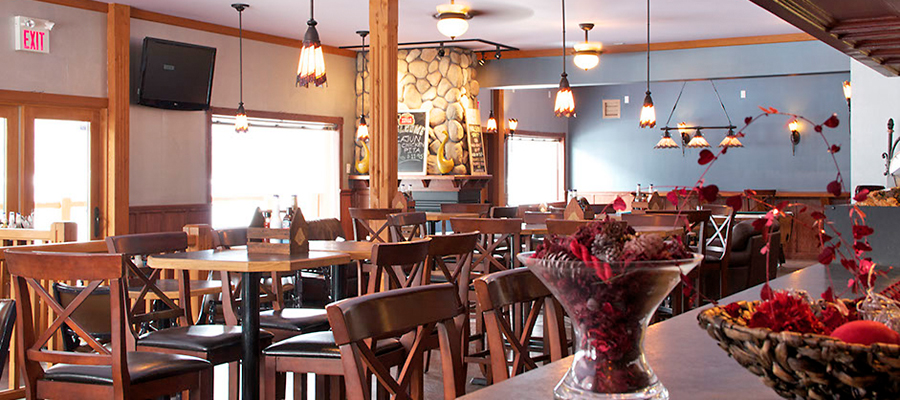 Is the Dock 'n' Duck Pub, Grill and Lodge suitable for families?
We can answer that with a resounding yes!
We have special menu options for kids, including:
Appetizers
Perogies and dip
Soup of the day (comes in a smaller portion for kids)
Fresh veggies and ranch dressing
Corn chips and salsa
Homestyle fries, gravy and poutine
Onion rings
Yam fries with chipotle mayo
Main dishes
Chicken tenders
Baked spaghetti
Grilled cheese sandwich
Fish and chips
Egg and cheese burger
Mini burger
Mini pizza
Mocktails for kids
If you're hitting the Dock 'n' Duck for beverages and bringing the family, ask us to mix up some of our special kid-friendly "mocktails" (alcohol-free, of course).
A few of our favourite mocktails:
Shirley Temple
Rob Roy
Atomic Cat
Moose Milk
Green-eyed Monster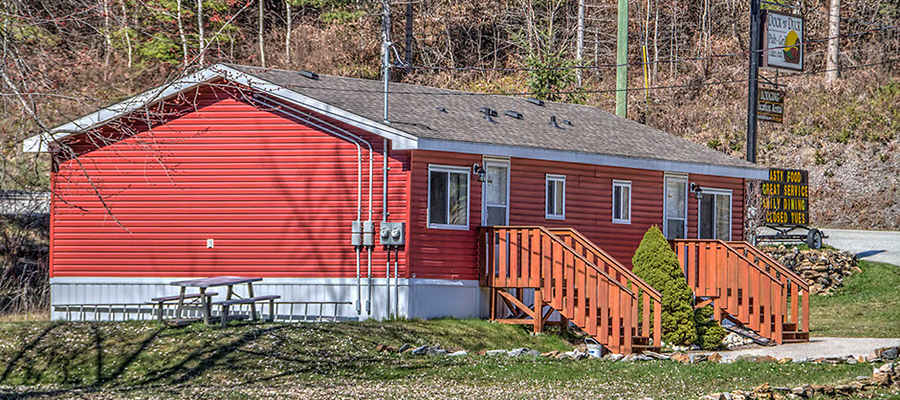 I'm looking for a vacation rental or resort near the Kootenay Lake ferry terminal. What does the Dock 'n' Duck have to offer?
Situated right on Kootenay Lake at the Balfour Ferry Terminal, our apartment-style lodging is sure to impress. We offer:
A premium location if you need to take the free Kootenay Lake ferry
Comfortable one- and two-bedroom suites that can sleep up to six
Full kitchens, handy for a longer stay or vacation rental
Beachfront access
Boat moorage
Take a look at our accommodations page to take a virtual tour of the resort property.
What are the opening hours for the Dock 'n' Duck in Balfour?
Monday to Sunday: 11 a.m. - 10:30 p.m.
What payment options does the Dock 'n' Duck in Balfour accept?
Interac, Visa, MasterCard, Cash
Contact info
Address: 7924 BC-3A, Balfour, BC V0G 1C0
Phone: 250-229-4244

Balfour Ferry Landing Balfour