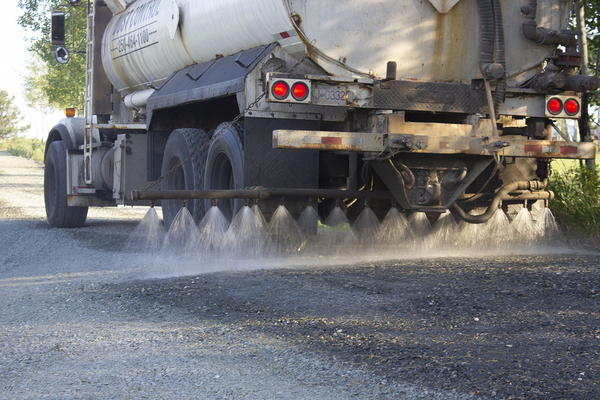 Kan-West Roads Ltd. specializes in dust control for all jobs big and small. This includes, but is not limited to driveways, parking lots, industrial roads & yards, landfills, lumber yards/mills, mining, logging roads, campgrounds, RV parks & golf courses. Services include delivery and application of water and dust control products. We have a variety of products to meet your suppression, environmental and safety needs (see below). Our dust suppression provides the best combination of application ease, cost & durability. With 25+ years' experience, we guarantee we have an answer for all your dust control needs.
Benefits of Dust Control
Reduces complaints from customers, employees and the public.
Reduces dust-related human respiratory health problems.
Improved driving experience reducing vehicle accidents due to poor visibility.
Reduces unpaved road maintenance costs by reducing frequency of grading
Decreases the loss of fine-grained surface material and aggregate therefore lowering re-graveling costs.
Benefits the environment by reducing dust particles entering waterways.
Increases structural stability of roads by creating a hardened road surface and stronger base.
Chlorides reduce frost heaving caused by freeze thaw cycles, thus reducing spring and fall maintenance costs
Other Services Offered
Water hauling
Road stabilization
Our Products
Calcium Chloride (CaCl2): Calcium Chloride is our most commonly used product for multiple reasons. This odorless, colorless brine solution is used as a cost effective dust suppressant and road stabilizer. CaCl2 is a hygroscopic solution that aids in retaining moisture, therefore significantly reducing dust. It acts as a binder that holds fine particles and aggregate together resulting in a hard compact surface. A beneficial residual effect accumulates with consistent application year after year. Calcium is one of the most environmentally friendly dust control agents on the market.
Magnesium Chloride (MgCl2): Magnesium Chloride is nearly identical to Calcium Chloride. Their benefits, composition & properties mirror each other. MgCl2 is also a hygroscopic solution; it attracts moisture from the air & resists evaporation binding fine dust and aggregate to keep surfaces stable and dust free.
Lignosulfonate (Ligno): Ligno is a naturally occurring polymer found in wood and works by binding the road surface aggregate together. As it is applied, the water evaporates from the concentrate, leaving the dust particles trapped by the high viscosity, natural sticky material. Ligno is our go to product for aggregate that typically has higher concentrations of clay & sand. It is non-corrosive and non-toxic making it environmentally safe for sensitive areas. Ligno is not harmful to plants, animals and aquatic life when processed and applied correctly. In the early stages of application ligno is more weather sensitive than our chloride products, but once it sets is becomes very weather resistant. Over time, some of the lignosulfonates will become insoluble due to solar heating, thus creating a lasting product.
KW Custom blends: Depending on your road base, custom blended solutions can provide effective results for any type of aggregate. These products are formulated blends of the previously mentioned. The combination of products at different concentration rates increases their individual strengths and lengthens their staying power. These blends are designed to address the specific needs of unique situations.
Call For A Free Estimate
No job too big, no job too small.
Call Kan-West Roads Ltd. today at 250-464-1100 for a free estimate on your upcoming project.
Methods of payment accepted
Cheque, cash, e-transfer, direct deposit