Pacific Northwest Garden Supply in Nelson has everything the aspiring or seasoned gardener needs to get established. Our goal is to support both large and small growers in getting the most out of every crop, and we love to see our products and education leading to bountiful harvests.
We have the best quality hydroponics systems in town for the most reasonable prices—not to mention our other gardening equipment, tools and supplies. We will help you set up your garden for success.
Call us for gardening advice or information on our hydroponics systems in Nelson, B.C.
Give us a call at 250-354-4767 to ask your gardening questions or to inquire about our garden supplies, hydroponics or other equipment.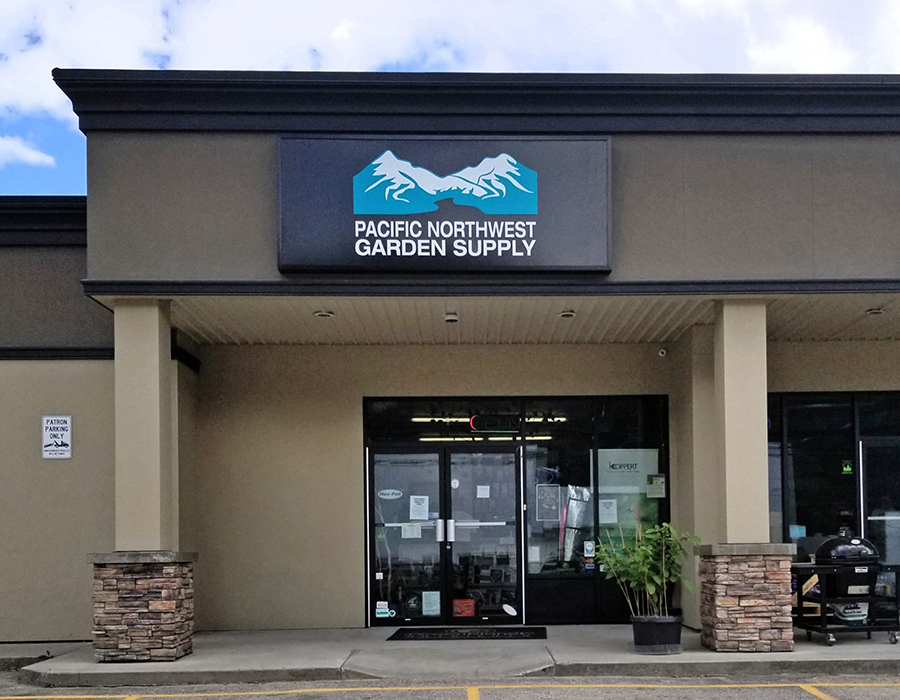 Five-star customer reviews for Pacific Northwest Garden Supply:
"If you need any sort of garden supplies for your indoor garden or micro cultivation facility, these are the people to see - very knowledgeable and top-of-the-line equipment. Always a pleasure to deal with, I literally can't speak highly enough of the staff." ~ Justin, Google reviewer
"I had a rough idea of what I needed when I walked in and browsed for a few minutes. Once I asked for help my shopping experience became virtually effortless and I was paid up and out the door in less than two minutes. Great staff helped me get exactly what I needed. Thank you." ~ Chris, Google reviewer
"Knowledgeable, friendly staff with top quality products. Worth your time to stop in." ~ Brian, Google reviewer
What is a hydroponic growing system, and what are some advantages of hydroponics?
Hydroponic growing systems enable plant propagation without the use of soil. Instead, a liquid nutrient solution is used to nourish the roots, resulting in impressive yields within a shorter period of time. Some systems also use a soil substitute, such as peat moss, perlite or coconut fibre. The hydroponic method is popular for those who live in small spaces and want to grow their own herbs, fruits and vegetables indoors.
Advantages of hydroponics:
Space is saved, as there's no need for hefty pots full of soil
It's a more environmentally friendly approach to gardening
Hydroponics can stimulate root growth by providing plants with extra oxygen in the growth phase—hence the faster growth and larger yields
It's an easy way of growing fruits and vegetables that are healthier and have more nutritive value
Water is recycled
The containers are lightweight and portable; this allows for easy avoidance/elimination of pests without the use of pesticides
Less nutrients are required, as the plants utilize them more efficiently
Nutrient levels are easily controlled
Harvesting is easier
You will save money you would otherwise spend on soil and supplements, chemical products, pots and containers or other traditional gardening equipment
If you want to set up a hydroponic system in Nelson or the West Kootenay, contact Pacific Northwest Garden Supply today! We have everything you need.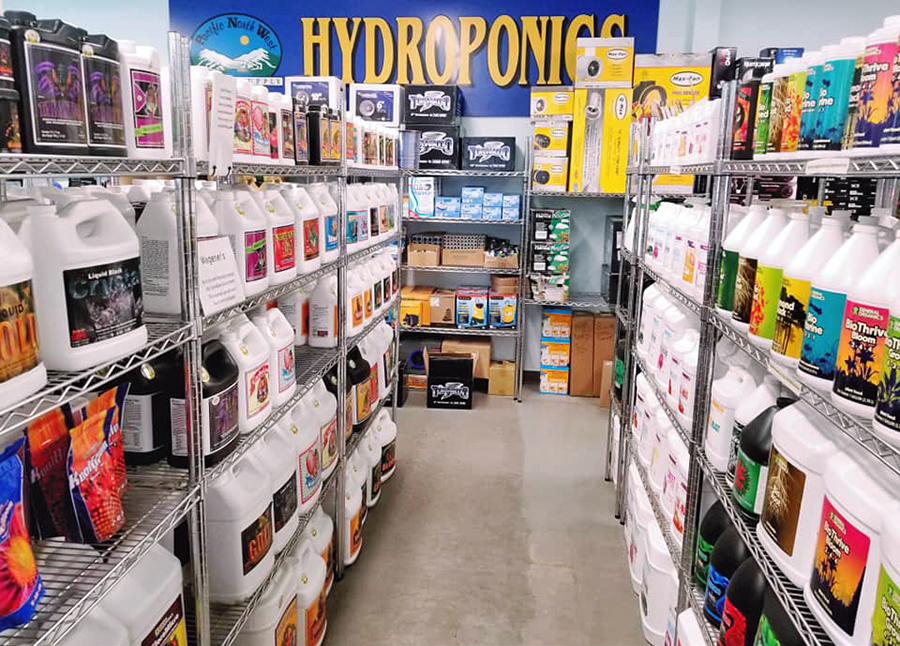 What hydroponics systems are carried by Pacific Northwest Garden Supply?
At our Nelson garden centre, we carry a few of the best hydroponics systems on the market:
Aeroflo2 systems: We carry Aeroflo2 systems of all different capacities, ranging from 18-site to 60-site units. The AeroFlo super-oxygenates the nutrient solution to optimally deliver oxygen, water and nutrients to your plants' roots. Perfect for flowers, fruits and vegetables up to three or four feet tall.

EcoGrower drip systems: The perfect introductory hydro system for small spaces. The EcoGrower incorporates an air-driven drip system and uses a revolutionary 17-gallon hexagonal reservoir with removable six-inch lid inserts. Each lid insert accommodates one six-inch net pot that can house large plants.

LED research growth chambers: The Hydroponic Research Growth Chamber is an all-in-one hydroponic system that is excellent for plant isolation research. The enclosed chamber includes a floating raft hydroponic system with a 32-cell Styrofoam tray, an air stone that helps aerate the water and a 54-watt LED light panel. The front LCD panel allows you to easily control air stone flow and light settings, making the growth chamber excellent for small-scale isolation research, propagation or general plant production.

MegaFarm Drip Systems: The MegaFarm is General Hydroponics' largest drip hydroponic module. The MegaFarm has a unique 20-gallon growing chamber which sits on top of a 20-gallon reservoir. A dual drip ring is utilized to allow for unlimited planting options. The MegaFarm will grow small, medium, large and extra large plants including many varieties of trees.

PowerGrower Individual systems: The unique hexagonal shape of the PowerGrower enables growers to place units close together when plants are small and then separate them as the plants grow larger. The Complete PowerGrower acts as a stand-alone system with a two-gallon growing chamber, four-gallon reservoir, an Elite air pump, clay pebbles, farm kit and Flora Series nutrients.

RainForest Aeroponic systems: We carry the RainForest 66, 236 and 318 systems. The RainForest is perfect for propagating cuttings or for quick starting seeds, seedlings or transplants. The Vortex Sprayer lifts and oxygenates nutrient solution then gently distributes it over the cutting base or root system, giving the most oxygen in the root zone possible.

Salad Box hydroponic salad gardening kits: The Salad Box is ideal for growing a small soil-free garden of salad greens and other plants indoors or outdoors with almost zero maintenance. No electricity is used in the process and no air pumps or water pumps are required. It grows greens and lettuce up to 30 per cent faster than soil. Use it indoors with grow lights or outdoors in natural light.
What other gardening equipment do you sell at Pacific Northwest Garden Supply in Nelson?
We offer a broad inventory of supplies at our gardening centre in Nelson, including:
Environmental controls
Coconut fibre products, such as coco coir and coco bricks
Blended soil mixes, such as our Pro-Mix HPCC Mycorrhizae mix with peat and coir, Sea Soil and FoxFarm Ocean Forest Potting Soil
Rockwool soil additives
Harvest equipment
Grow tents
Greenhouses
Plant hormones and yield enhancers
Water gardening and ponds
Horticultural lighting
Books
Top-quality nutrients
Carbon dioxide equipment
Safety gear
Cloning systems
Sprayers and wands
Irrigation equipment
pH meters and controllers
Garden accessories
You can also ask our organic gardening specialists any questions you might have or request an item you're looking for. We are happy to help.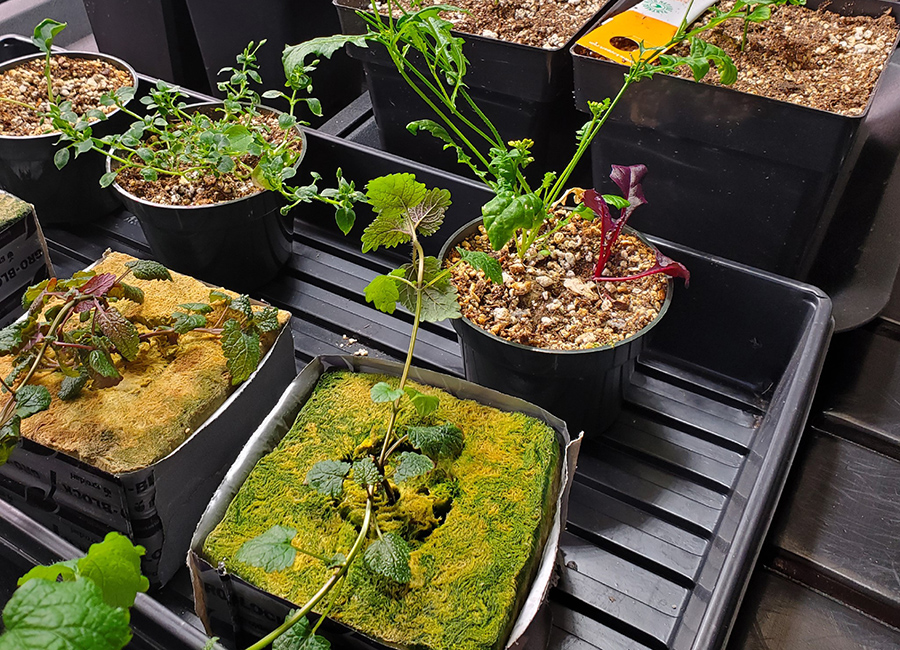 What is the best growing medium to use in a garden?
Potting soil (or nearly any alternative growth medium) is best when balanced with a number of different ingredients to lend it the perfect consistency, porosity and chemical constitution for the health of the plants. Be aware that the desired parameters of the substrate will partly depend on what type of plant you're growing in it, so be sure to do your research first (or give us a call). These are the main advantages to some of the soil components we offer:
Coco coir: Coconut fibre or coco coir is a byproduct of the coconut industry, and it can come in handy in the garden. It holds nutrients well, fosters good drainage and pH, and is a renewable, eco-friendly resource.

Peat moss: Peat moss resists compaction, absorbs water extremely well and helps maintain an acidic soil.

Rockwool: Rockwool is excellent for retaining both air and water in balance, making it less likely for roots to get overwatered and saturated.
What growing media additives should I use to supplement my soil?
At Pacific Northwest Garden Supply we carry:
Vermiculite: Vermiculite retains moisture, nourishes root systems and increases soil aeration.

Perlite: Perlite functions in a similar way to vermiculite, but its larger surface area makes it even more suited to plants that need excellent drainage, such as those from hot or humid climates.

Gaia Green Organic fertilizer mixes: Gaia Green makes a variety of natural fertilizer mixes, containing blood meal, kelp meal, glacial rock dust and rock phosphate. These help to boost the nutrient content of your soil, providing essential micronutrients and minerals.

Hydrocorn: Hydrocorn is another eco-friendly, renewable additive that increases root oxygenation and soil aeration.

Growstone hydroponic substrate: This substrate is known for having even more aeration potential than coco coir, vermiculite and perlite.

Nutrilife Pyro Clay: Nutrilife Pyro Clay is a natural and soluble form of silicate. It contains 97 natural elements to improve plant health.
What are the opening hours for Pacific Northwest Garden Supply?
Monday to Friday: 9:30 a.m. - 6 p.m.
Saturday: 10 a.m. - 6 p.m.
Closed Sunday
When was Pacific Northwest Garden Supply founded?
1993
What payment options does Pacific Northwest Garden Supply accept?
Interac, Visa, MasterCard
Contact info
Address: 104 Silica St, Nelson, BC V1L 4M1
Phone: 250-354-4767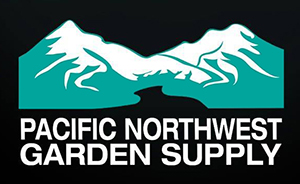 14 104 Silica St Nelson V1L 4M1