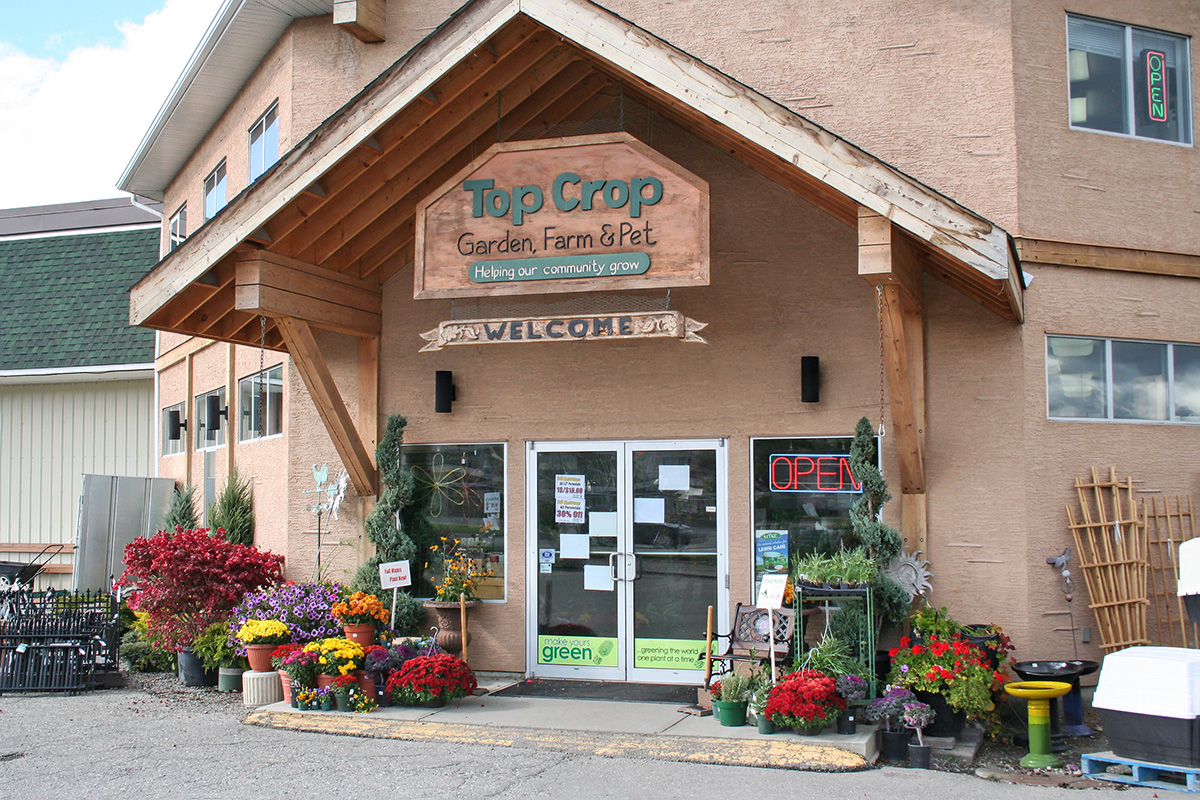 "My garden is my most beautiful masterpiece." ~ Claude Monet, French Impressionist artist
Truly, a garden is comparable to a painting—a splash of colour here, a bit of texture there, some masterful clipping and pruning and we are rewarded with our own masterpiece. Each garden is unique to the person who tends it. The professionals at Top Crop: Garden, Farm & Pet can help you envision your perfect space.
With two locations—in Cranbrook and Kimberley—Top Crop is the largest garden centre in the East Kootenay. An extensive and ever-changing selection of plants is available for the greenest of thumbs. The greenhouses at Top Crop overflow with colour and foliage, and with the majority of plants locally grown in their facilities, you can be assured that they are suited to the local climate. Whatever your passion—annuals, perennials, exotic topiary, edibles or home-grown roses—you will find Top Crop stocks it all and more.
Looking to create a backyard oasis? You will discover a full range of landscaping supplies, soil, fertilizers, pesticides, mulch and everything you will need to keep your garden happy, healthy and looking its best. The helpful staff are always available to make recommendations on the best product for your gardens and lawn.
Are you interested in edible gardening and growing your own food?
There's nothing quite as satisfying as biting into a juicy, plump tomato or picking a basketful of fresh strawberries and knowing that you grew the produce yourself. It's straight from your own garden—what could be fresher and healthier? With the high cost of buying food, many people are turning to home-grown fruits, vegetables and herbs to supplement what they purchase from the grocery store.
Check out Top Crop's huge selection of seeds including bulk seed, heirloom and specialty seed, untreated and non-GMO for organic gardening. They stock seed planting trays, lighting kits, starter and potting mix and everything you need to get growing! Prefer starter plants? The greenhouses at Top Crop are overflowing with the best tried-and-true varieties of your favourite edibles, guaranteed to give you the highest success rate and yield. The nurseries at Top Crop also carry an extensive selection of fruiting trees and shrubs.
Visit the Cranbrook location at 2101 Cranbrook Street or in Kimberley at 2234 Warren Avenue.
Are you looking for a specific type of plant for your garden, such as a deer-resistant or shade-loving variety?
Whether you have your heart set on the perfect tree to complement your backyard, an easy-to-take-care-of shrub, a perennial that thrives in shady corners or a plant that won't attract the deer, contact the experts at Top Crop: Garden, Farm & Pet for advice. They are very knowledgeable and helpful, and can help you narrow down the type of plant you're looking for.
Come and have a wander around the garden centre in Cranbrook or Kimberley, and see what catches your eye—friendly staff are happy to make suitable suggestions that will work for your space. Providing a suitable habitat for garden pollinators like bees, butterflies and hummingbirds is vital, especially since the number of these essential species is dwindling around the world. Even a small patch of garden, thoughtfully planted with appropriate varieties of pollinator-friendly plants, can make a big difference.
Passionate about plants and want to beautify your indoor space? A beautiful selection of tropicals and flowering plants is available for your perusal.
Top Crop: Farm, Garden & Pet five-star customer reviews
"Always great service here! Have been purchasing from this store for many years. They carry a great stock of things, all at very reasonable prices. If they don't have what you are looking for in stock, they try very hard to get it in for you." ~ Dustin
"The staff here are knowledgeable and helpful, absolutely love going in the middle of winter to seed shop or buy new houseplants. The greenhouses in spring/summer are absolutely amazing, love this place year round!" ~ Etoile
"Any place that takes in a scared skinny stray cat & allows him to be the company cat is A-OK to me!" ~ Chris
"We have always had the very best service and quality from Top Crop and their amazing staff. They took two of our last year's pots and replanted them for this year's season ... Save your pots, it will save you money! We loved them so much, we grabbed a couple more! They last all summer long and make our little backyard oasis so beautiful! Thanks, Top Crop!!" ~ Dionne
Visit more Top Crop: Garden, Farm & Pet reviews here.
A garden is more than plants. Top Crop can help with landscaping and design.
Great! You've got an idea of what kind of garden you want, but what about layout and design? With a large selection of paving stones, decorative rocks, water features, statuary, pots, attractive metalwork, garden decor items and signs, you will find the ideal item to help create your perfect garden oasis. Pick out that comfy-looking piece of outdoor furniture you've been wanting.
Looking to attract more wildlife visitors to your garden? Browse through a selection of quality feeders, seed and bird baths.
And as any gardener knows, the right tool for the job makes all the difference! Make any lawn or garden job easier by choosing the right tool from Top Crop's large selection of products.
And while you're at it, all that hard work taking care of the garden deserves a little R & R. Why not treat yourself or someone you love? The Top Crop gift shop features a lovely selection of fashionable clothing, jewelry, purses, bags, hats, giftware, cards and wall art.
Top Crop's business name says "Garden, Farm & Pet." What kind of farm and pet products do they carry?
As the largest supplier of fencing supplies in the area, you can be assured to find everything you need for your next project. Find treated posts and rails, electric fencing, agricultural wire and chain link, deer and elk fencing, gates, hardware and commercial fencing products.
For your livestock, poultry and small animals, Top Crop carries a large selection of quality feed, forage seeds, troughs and health supplies. There's everything you need to keep your animals happy, healthy and comfortable: heat lamps and bulbs, feeders, nesting boxes and bedding. Any specialized equipment you require can be ordered in by Top Crop.
Horse lover? The Tack Shop has everything to keep you and your equine friend happy and stylish. Saddles, reins, western jeans, riding gear and accessories are available.
Top Crop carries a full-line of pet supplies, clothing, toys and treats along with the area's largest selection of premium-quality pet food.
Top Crop has plant experts to help novice gardeners.
Top Crop's plant and garden experts are always willing to help with any questions you may have.
You can arrange a V.I.P. Planting Party, available during the prime growing season. Create a beautiful custom flower basket, a floral or vegetable container, a succulent arrangement or perhaps a fairy garden—the choice is yours! Spend a fun night hanging out with your best friends, a group of co-workers or your bridal party and learn tips and advice directly from Top Crop's professionals. They will advise you on the best plants to choose from and offer as much help as you need. Snacks and light refreshments are supplied.
Top Crop: Garden, Farm & Pet services and products offered:
Fully stocked greenhouses—perennials, annuals, edibles, water plants, custom containers
Ornamental trees, shrubs and vines, roses, evergreens, fruit trees, exotic topiary
Large selection of seeds and bulbs, indoor and tropical plants
Pottery, pots, garden statues & decor, giftware & clothing, metalwork, garden tools
Wildlife feeders, birdseed
Landscaping supplies, fertilizers, pesticides, organic products
Irrigation and pond supplies, lighting systems, hydroponics
Livestock, poultry and small animal feed, livestock/equine handling equipment & supplies
Agricultural supplies and equipment, fencing posts/rails/wire
Premium-quality pet food and products
When is Top Crop: Garden, Farm & Pet open?
There are two locations—in Cranbrook and Kimberley.
Cranbrook Top Crop: Garden, Farm & Pet hours:
Monday to Saturday: 9 a.m. to 6 p.m.
Sunday: 10 a.m. to 5 p.m.
Kimberley Top Crop Too hours:
Monday to Saturday: 9 a.m. to 6 p.m.
Sunday: Closed
Who is the owner of Top Crop: Garden, Farm & Pet?
Shannon Fisher is the owner.
Accolades for the business, such as Best of Business Awards
2018 Best of Business winner—Platinum for Garden Centre category
2018 Best of Business winner—Platinum for Feed Dealer & Supplies
2018 Best of Business winner—Gold for Pet Store category
What payment options does the business accept?
Interac, Visa, MasterCard, Cash
Contact info
Top Crop: Garden, Farm & Pet
2101 Cranbrook Street, Cranbrook, B.C.
Phone: (250) 489-4555, toll-free: 1-888-489-4555
Top Crop Too
2234 Warren Avenue, Kimberley, B.C.
Phone: (250) 427-7762

2101 Cranbrook St N Cranbrook V1C5M6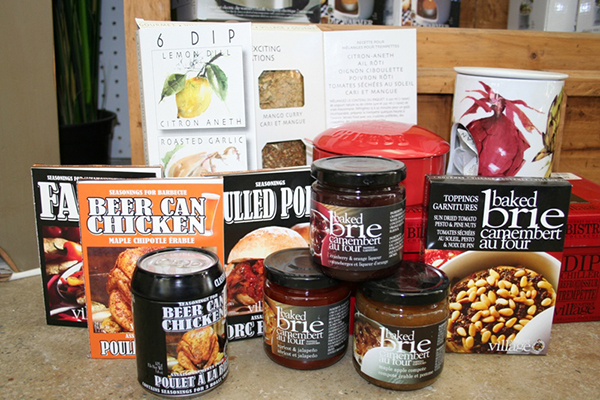 Top Crop Garden Farm & Pet has unique giftware for that special someone.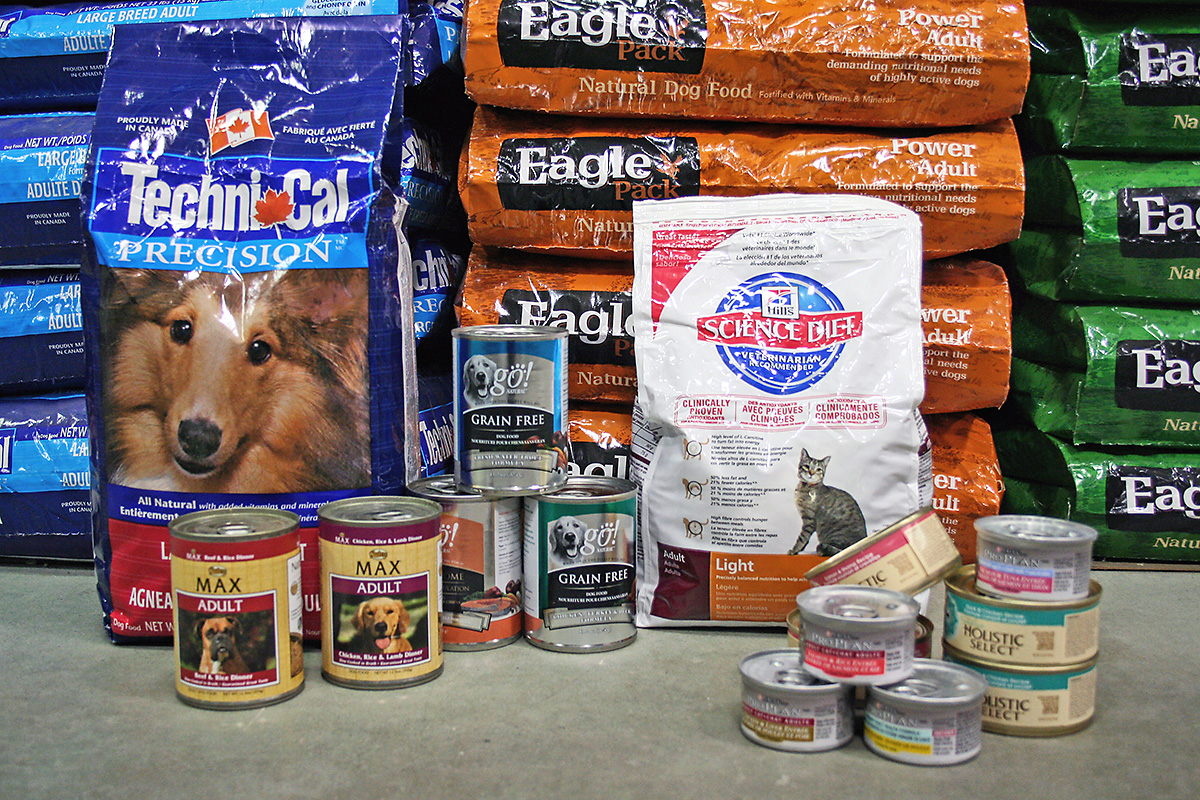 Top Crop Garden Farm & Pet offers an extensive selection of premium quality pet foods.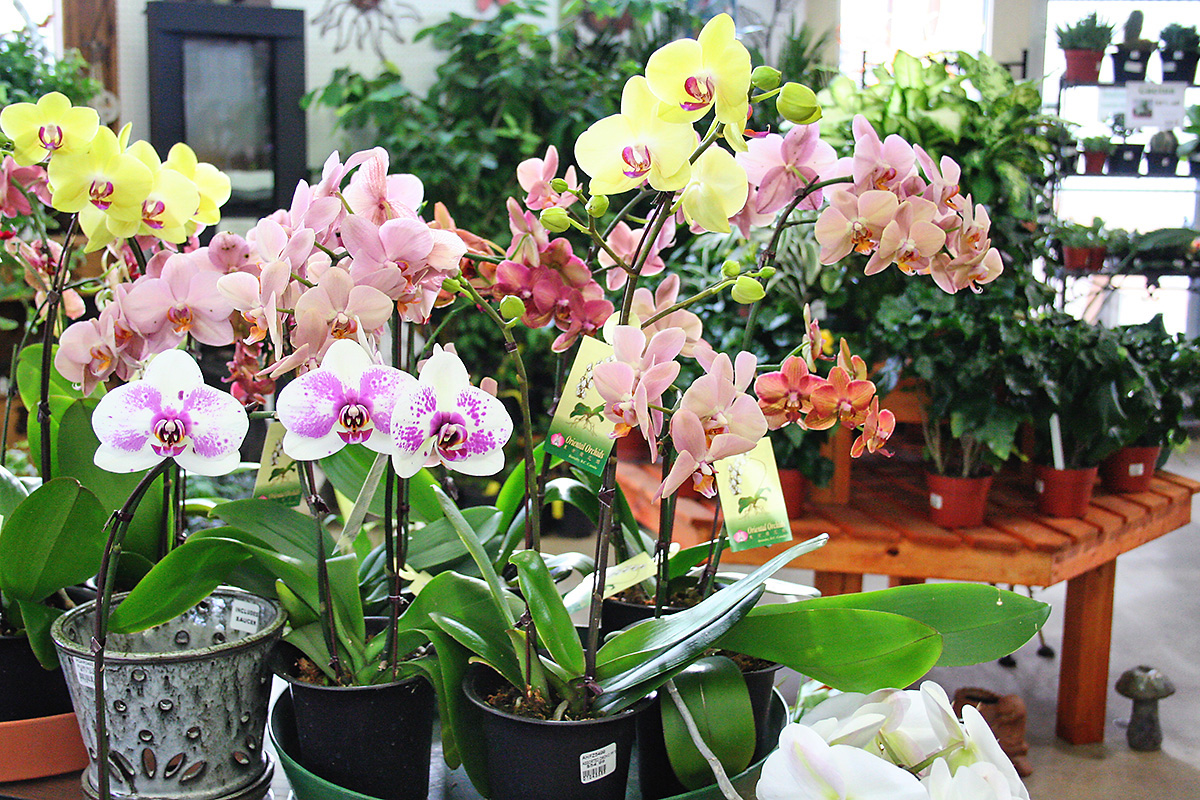 Top Crop Garden Farm & Pet is the largest gardening centre in the Kootenays.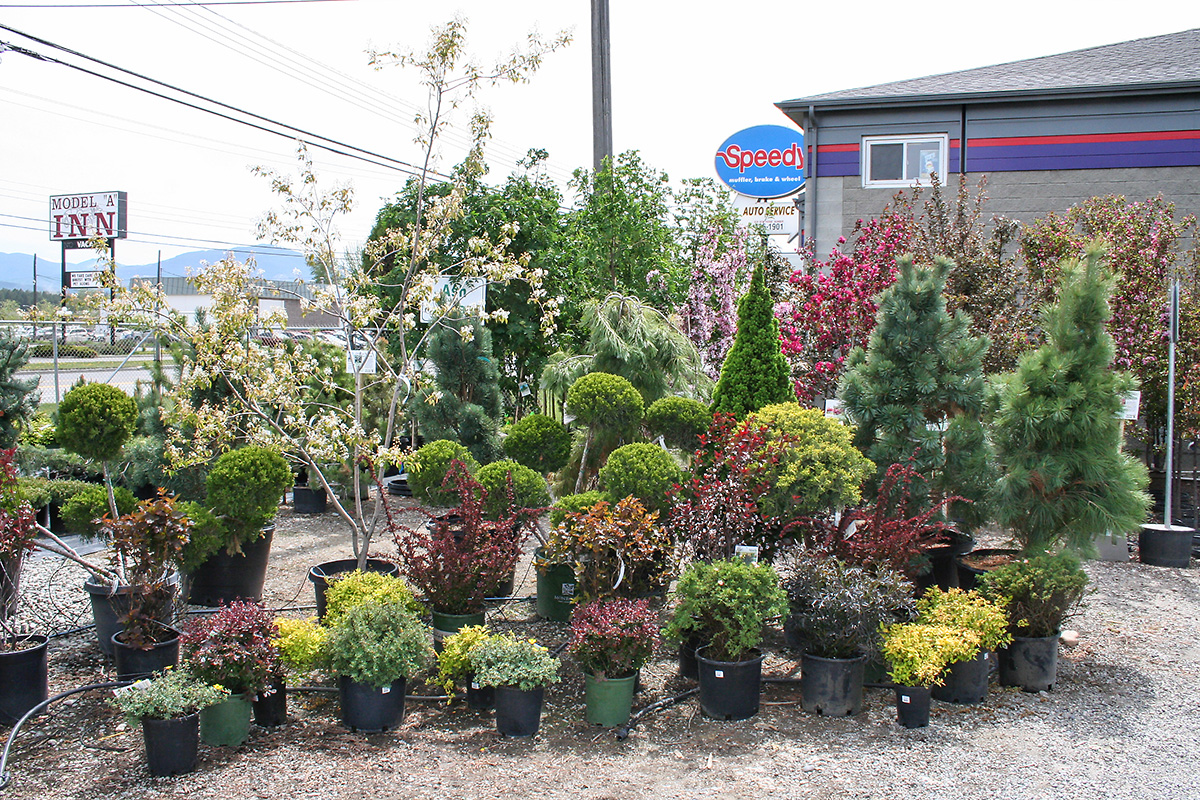 Top Crop Garden Farm & Pet contains a garden centre and nurseries.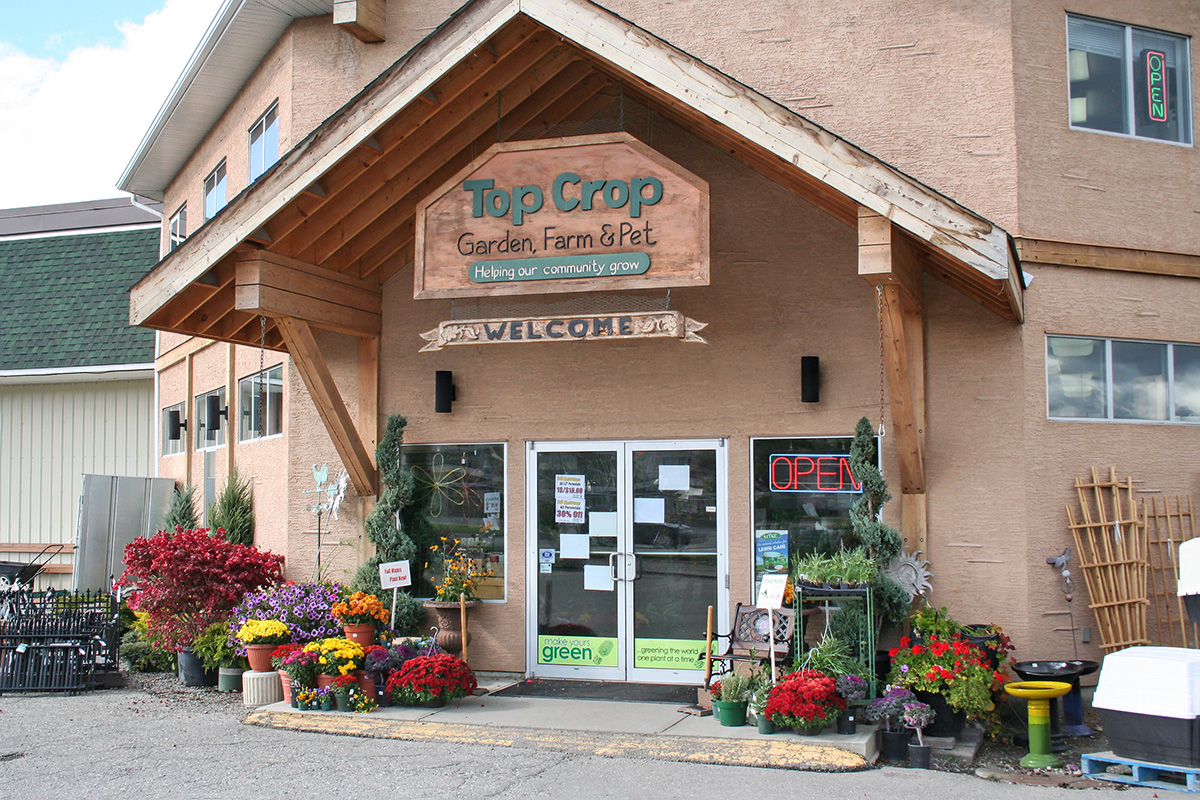 Top Crop Garden Farm & Pet is located at 2101 Cranbrook Street North in Cranbrook.