When it comes to concrete, the experts at Tri-Kon Precast Concrete Products have cemented their reputation. In business since 1972, this family-owned company has grown to be the number one supplier and manufacturer of quality concrete products in the region. Founded on rock-solid small-town values, the crew at Tri-Kon are proud of their commitment to excellence and superior customer satisfaction.
Highway and road infrastructure products make up a significant part of our business. Our service area extends across B.C. and Alberta, and we have been involved in many construction and improvement projects throughout both provinces. At Tri-Kon Precast Concrete Products, we take care of loading and transportation. We have supplied and installed culverts and catch basins, concrete highway dividers and precast concrete outhouses to many job sites.
We are suppliers and manufacturers of precast concrete blocks for commercial and residential retaining walls, and also offer a range of concrete outdoor furnishings such as benches, planters and picnic tables. In addition, we produce concrete septic tanks for sale and installation.
Designing a public space and need durable concrete outdoor furniture? Give this Cranbrook company a call
As suppliers of quality concrete picnic tables, benches and planters, the staff at Tri-Kon Precast Concrete Products can help you create an attractive and welcoming space. Give our crew a call at 250-426-8162.
What kinds of precast concrete products and accessories does this Cranbrook business offer?

Tri-Kon Precast Concrete Products offers a wide range of products for commercial, industrial and residential applications.
Many of the concrete products we manufacture are for use in provincial and municipal highway and road infrastructure—items such as concrete road barriers, culverts, manhole barrels, lamp and sign bases, parking curbs, and precast modular outhouse buildings.
We also manufacture a wide selection of concrete outdoor site furnishings that are often utilized in municipal public works departments and parks. Concrete benches, picnic tables and planters are all available in a range of styles and sizes.
For decorative and attractive retaining walls, we offer a selection of precast interlocking concrete blocks that are suitable for any kind of application. We also manufacture septic tanks in residential and commercial sizes.
What are the benefits of precast concrete products? This Cranbrook concrete company explains
In business since 1972, the professionals at Tri-Kon Precast Concrete Products have extensive knowledge on the benefits of concrete. Here's a brief overview of points to consider:
Little-to-no maintenance: Unlike traditional building materials like wood, brick or stone, concrete is resistant to weather, temperature fluctuations and insects. Concrete is able to withstand the sweltering heat of summer and the frigid cold of a Canadian winter without damage. A concrete product will last for decades, compared to years for other materials.
Durability: Because precast concrete is formed in moulds, it can be easily reinforced with steel for added strength and durability. Components are manufactured and cured in a controlled environment to ensure a quality product.
Faster and easier installation: For products such as retaining walls, the bricks are precast and interlocking, which means you require less equipment and time to install.
A variety of styles: Precast concrete products are available in a wide range of styles, sizes and finishes to suit a variety of applications.
This Cranbrook company explains the advantages of a precast concrete septic tank

Nobody wants to deal with the issues a failing septic tank can bring. The experts at Tri-Kon Precast Concrete products explain that a concrete septic tank is a far superior alternative to the plastic version. Read on to find out why:
Extremely durable: Concrete septic tanks are far more durable than their plastic counterparts.

Resistant to environmental effects: Because of the natural strength and temperature resistance of the material, a septic tank made of concrete will not be affected by tree roots or changing soil conditions. They will also not be crushed or damaged by a vehicle driving over them.

Low maintenance: Because they're so resilient, concrete septic tanks don't require as much maintenance as the plastic version. Long-lasting: With proper maintenance and regular draining, a concrete septic tank will last as long as 40 years.
The ins and outs of septic tank sizes
It's vital to choose the correct size of septic tank for your needs. At Tri-Kon Precast Concrete Products, we offer a variety of different sizes of concrete tanks for sale and installation.
You'll want to consider several factors when choosing the correct size of a septic tank: the square footage of your home, the number of bedrooms and the average number of occupants. If you choose a tank that is too big, the system may not work properly and efficiently. Choose too small of a tank and you'll have quite the mess on your hands!
Here's a general guideline of the most common sizes of tanks, depending on your need:
600-gallon septic tank: suitable for a small two-bedroom rural home

1,000-gallon septic tank: this is the most common sized septic tank and will comfortably meet the needs of most households; suitable for a typical four-bedroom home or as an expansion to an existing system

1,500-gallon septic tank: suitable for a large six-bedroom home
At Tri-Kon Precast Concrete Products, we can manufacture septic tanks up to 5,000 gallons. Contact us to discuss your needs.
Tri-Kon Precast Concrete Products offers concrete septic tank installation on your property
Not only does Tri-Kon Precast Concrete Products manufacture concrete septic tanks, they also install them. Septic tanks are available in a number of different sizes.
Contact the professionals at Tri-Kon to discuss and arrange the installation of your septic tank. We can also recommend a contractor who will be able to complete the hook-up of your new system.
Concrete park benches, picnic tables and planters are great choices for both commercial and residential use

At Tri-Kon Precast Concrete Products, we produce a range of comfortable and durable concrete outdoor furniture designed for many different applications. Suitable for both public and private areas, our concrete furnishings beautify any space and are available in different finishes. Choose from our range of concrete picnic tables, benches and planters. Products are available in a plain concrete finish, a granite-look terrazzo-style finish or an exposed aggregate finish.
Home builders appreciate the ease of installing precast concrete steps from this Cranbrook company
Precast concrete steps make the laborious task of building outdoor landings much easier. Unlike wood, which requires careful measuring and installation, concrete steps can simply be hoisted into place.
Tri-Kon Precast Concrete Products offers a choice of concrete steps manufactured in either five- or six-foot widths. Steps can be ordered with up to six risers and a choice of two different mounts.
Building a retaining wall? Precast concrete blocks are an easy option

Large, interlocking concrete blocks make building a retaining wall much easier and faster. At Tri-Kon Precast Concrete Products, we supply and manufacture several different types of blocks.
Whether you need a residential wall to increase an outdoor living space or a commercial wall that holds up an entire building, our professionals can advise you on a suitable product.
Services and products offered by Tri-Kon Precast Concrete Products:
Septic tanks
Precast concrete steps
Landscape products—retaining walls
Concrete benches, picnic tables and planters
Precast interlocking blocks
Manholes and manhole barrels
Concrete barriers, vaults and structures
Catch basins, drywells
Structures—inlet and outlet, box culverts
Exposed aggregate product
Outhouses and concrete toilet buildings
Concrete window wells
Online inquiries
When is Tri-Kon Precast Concrete Products open?
Monday to Friday: 8 a.m. - 5 p.m.
Closed Saturday and Sunday
When was Tri-Kon Precast Concrete Products started?
1972
Contact info
Address: 601 Patterson Street West, Cranbrook BC, V1C 6T3
Phone: 250-426-8162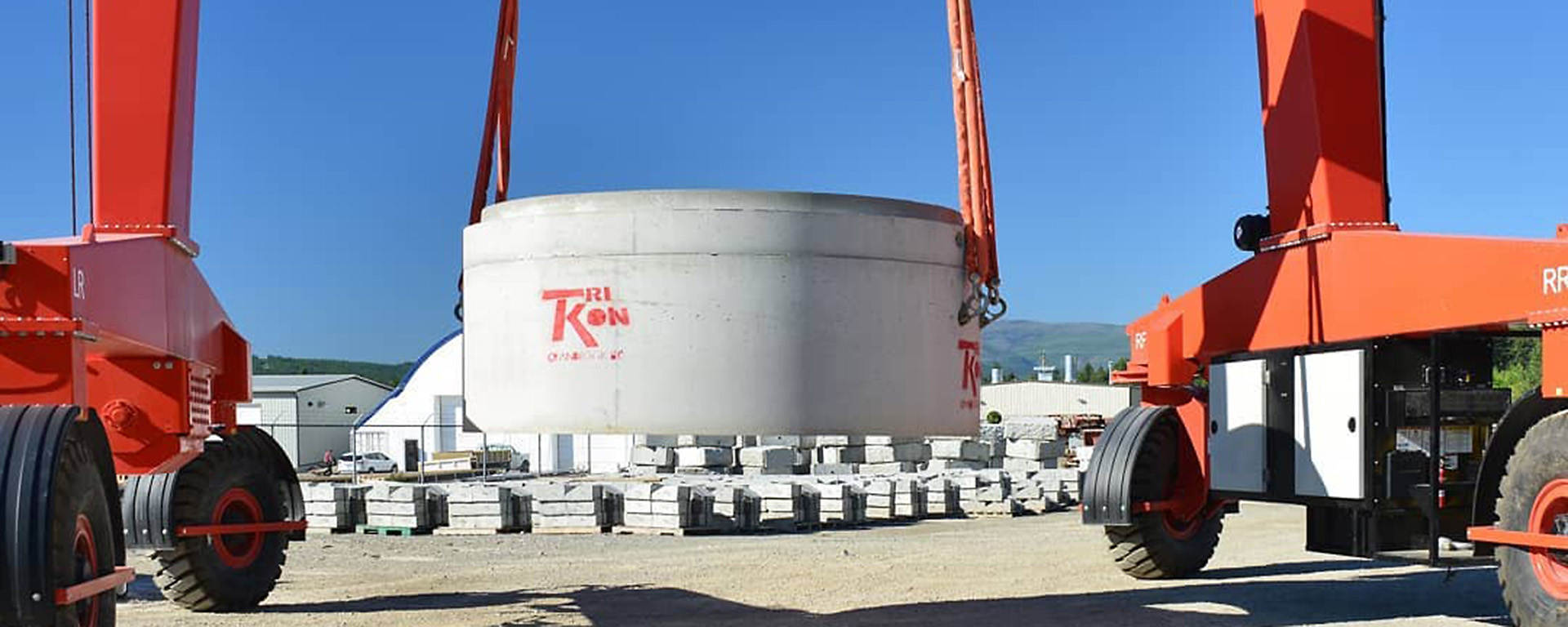 Tri-Kon Precast Concrete Products—family-owned and -operated business since 1972.